Home
Marketing a home inspection business is one of the most important aspects to the overall success for you as an inspector. You can be the best inspector in the world but if no one finds out about you, your phone won't ring and your inbox will be empty and you won't have a chance to prove yourself and get those important referrals from realtors, bankers, or lending agents.
Home Inspector Credentials
One key factor to advertising is your credentials. Becoming certified from Professional Home Inspection Institute is a good credential to advertise as well as your membership in any professional societies or associations like NSHI, ASHI, or NAHI. One of the benefits of taking the course from Professional Home Inspection Institute is the free 1-year membership to NSHI which is a credential you can advertise alongside your certification right off-the-bat. After the first year, its up to you if you want to keep your membership going. The rate for renewal is $149/year and they also require you to take continuing education courses each year to keep your membership current.
National Non-Profit Home Inspector Societies with Find Inspector Services:



Illinois Home Inspector Associations
Another benefit of taking the course from PHII is that you will receive downloadable templates for home inspection ads, flyers, brochures, and business cards that can be customized with your own company information and used for advertising. This makes it easy to add your information, company name, contact info, website address, etc to the templates and print them from home or the office or take them to a print shop and have them professionally printed. This helps eliminate another large cost of starting a home inspection business as you won't have to pay a graphic designer to design a brochure or flyer for you from scratch!
After completing the course from Professional Home Inspection Institute, you'll receive templates for:
Home Inspection Flyers
Home Inspector Ads (newspaper, yellowpages, etc)
Business Cards (sample logos below)
Brochures
Certified Logos
And more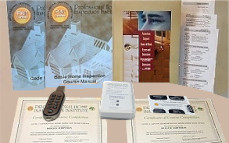 Home Inspector Certification Course Package
Basic Home Inspector Certification Course (90 hours)
Advanced Home Inspector Course (32 hours)
Free 1-year membership to NSHI (National Society of Home Inspectors)
Free 1-year website from InspectHost.com
[ More Information ]